What to Sell on eBay – Everything I've Learned from Selling 50,000+ Items on eBay
November 30, 2017Max Godin30 Comments
What to sell on eBay is probably the holy grail for eBay sellers, this is the starting point for most journeys on eBay.
For us, back in 2008 it was no different, we decided to sell on eBay and didn't have the first clue where to start.
In this post I will discuss the sheer variety of items one can sell on eBay, give you a guideline for how to choose the most profitable products to sell, give you some actual product suggestions and list products which are technically "not allowed" on eBay but in practice make big bucks.
Remember: You can sell (almost) anything on eBay
You have to remember that there are 1.2 Billion eBay listings, and hundreds of categories on eBay. Under Electronics category alone you will find 80+ sub categories.

The point is that you can sell almost anything on eBay, and in reality we see ridiculous items sold on eBay for millions.
Just take a look at these two Ferraris recently sold on eBay for $359,000 and $189,950: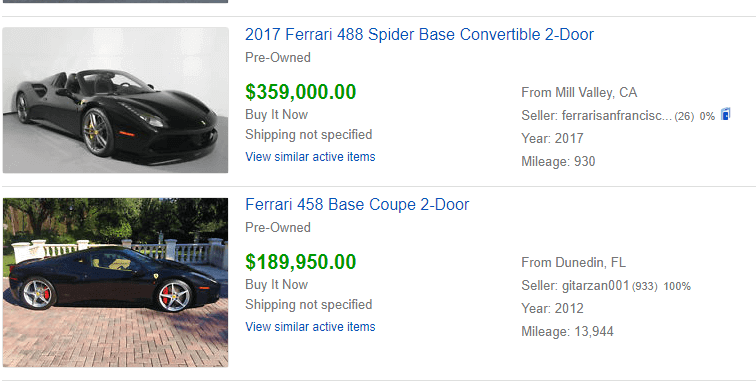 Or this prefabricated house, just buy a piece of land and have it shipped there and you are good to go: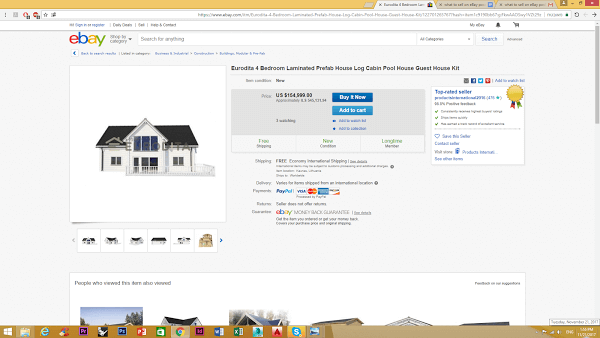 But what to sell on eBay in my view is not about a specific item but about the types of items you should sell on eBay.
5 product characteristics to consider when deciding what to sell on eBay
My business partner and myself originally ran our business using a dropshipping strategy and needed to pay extra careful attention to profit margins. The following are the top five principals we used to grow our eBay business and make sure we were not losing money on our sales. Use these guidelines to figure out what the best items to sell on ebay for profit are:
Price 150–300 USD – From our experience this is the perfect price range as on the one hand, the profit margin is not too low – something which would force you to sell large quantities just to make a profit. And on the other hand don't sell products where the profit margin is too high, as I mentioned before this could put you at great financial risk. The reason is that the amount of effort to process an order of a $1 item is pretty much the same as it is for a $300 item. But the profit margin for $300 is much higher. You could take that logic to the extreme and ask why not to sell items worth $10,000, the thing is that at $150-300 price range, shoppers are still pretty easy on the buying trigger, while for higher prices they will usually want to take their time to research and not succumb to an "instinctive purchase".
Weight – Logic dictates that the lighter the item, the cheaper it is to ship especially when talking about express shipping. The heavier the item, the more you pay on shipping the lower your profit margin.
Now that's just the cost of sending the product. But what if the customer is not satisfied and decides to return his or her purchase? Heavy products put a heavy burden on businesses when it comes to returns as it is usually on the seller's dime. The fact is that heavy products make business tough.
Niche markets – Do not attempt to enter niche markets where pricing is extremely competitive! These markets are very risky and cash heavy, experienced sellers can drop prices to rock bottom just to flush out the competition. An example of this would be a market like cameras or flat screens, these are very popular items with high demand and fierce competition. If you still want to enter a niche market try something a bit more obscure with less competition like snowboards for example.
Simplicity – Sell products that are easy to use and assemble. Complex products run the risk of user dissatisfaction and increase the probability of returns on your dime. This type of setup can easily bankrupt new and seasoned sellers alike. A good example of this is when my business partner and I had to do screen-share sessions with our GPS customers to help them install new maps – it was a huge time consumer and put a damper on our ability to grow our business.
Expertise – Having expert knowledge about the product you are peddling gives you a huge market advantage. This obviously cancels out number four since if you know what you are doing you can and should leverage this to make the purchasing and assembly process as easy as possible for your customers. This will make you a full service business as opposed to many of your competitors who simply offload their product with no customer care. We actually started by selling a fairly technical product, camera lenses, which requires knowledge of the device itself, adaptability, lighting and weather conditions concerns among others. We learned our product as time progressed and this is a strategy anyone can adopt.
Going forward EXPERTISE will be the only reason for small businesses to exist in a world of commodity items controlled by giants like Amazon, who have a better pricing and faster shipping, but will never be able to offer a professional dedicated support like a small business can.
Examples of good products to sell on eBay
Here are some examples of products which possess elements of the features mentioned above and which I consider to be some of best things to sell on eBay:
#1: A wrist watch for running
Fitness is very popular now and that means there is a big market of people who are looking for fitness accessories. This is how this product scores based on the list above:
The price range is $150-$300
They are usually pretty lightweight
A bit of a niche market but no too much so.
They are fairly easy to operate.
As with any product if you are an expert this will benefit you.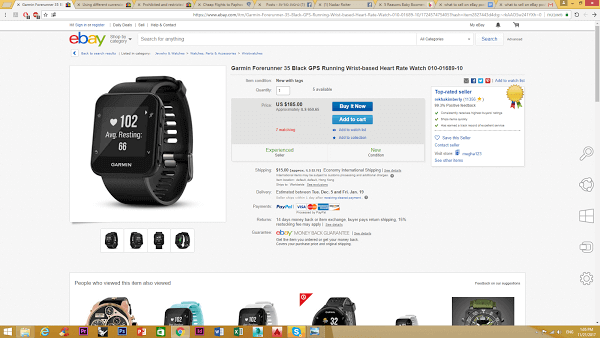 #2: Video Games
Anyone who has kids knows how much they love video games and you also know how expensive video games are at stores. That is why there is a huge, fast paced online market for this. Although this does not reach the $150 mark (in most cases) it has great potential for profit, is cheap to ship and can be bought at a low price in bulk and sold at higher individual retail prices. This is how this product scores based on the list above:
The price range is $10-$200 (you can go for the higher tier priced games at $100-200)
They are usually pretty lightweight
I would not necessarily consider this a niche market. Many people including adults play video games and you have a multitude of companies and stores buying and selling them.
They are fairly easy to operate. Just pop them into your console and play..
If you are a gaming master this will benefit your sales as you can give pro tips to gamers.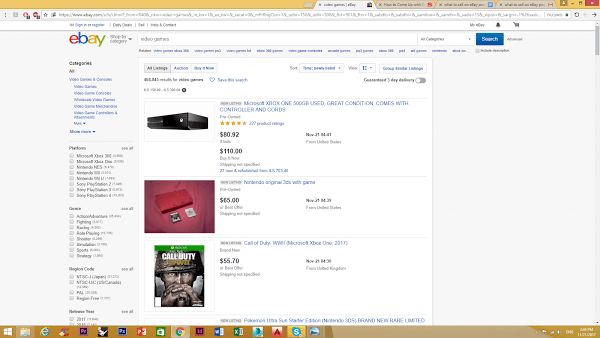 #3: Fabrics, curtains and sheets
Curtains are a great thing to sell as they are lightweight, easy to dropship and trends are always changing allowing you to push more merchandise quicker. This is how this product scores based on the list above:
The price range is roughly $50-$300
They are usually pretty lightweight
Not really a niche market
They are fairly easy to operate. Just hang them up on a rod and your done. .
If you have design experience, are an interior designer or decorator or just have a good eye, you can give clients advice and build a customer base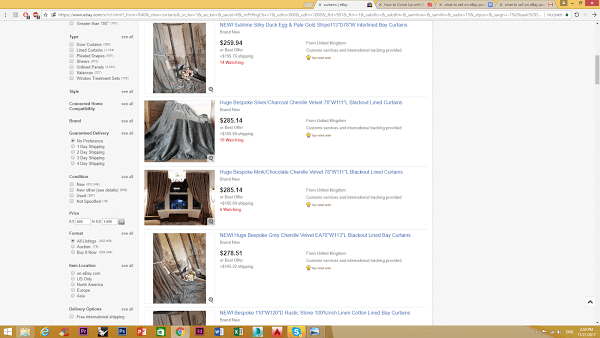 From "Account Suspension" to "eBay awards", we're sharing everything from our journey to $100k in monthly sales.
We're learning a lot and so will you.
And don't worry, we hate spam too! You can unsubscribe at anytime.
#4: Computer accessories
As I will mention further on, I don't recommend selling electronics themselves but accessories such as keyboards, computer cases and stands, external hard drives and ink cartridges are good items to consider selling.This is how this product scores based on the list above:
The price range is $50-$300
They range from lightweight to midweight
Everyone uses computers and needs accessories
They are usually pretty self explanatory
Any computer knowledge is a bonus to your business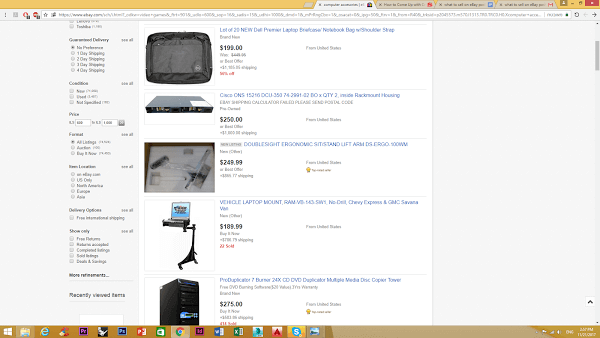 #5: Personalized Items
Today millennials are interested in customization. Be it a customized iphone case or knapsack, car accessories, food, clothing or jewellery – they want it personalized. And this could be a great market for you. Millennials always have their wallets open and credit cards at hand, looking where they can spend their next dollar. A good example for a personalized item is an iphone accessory like a case. You can offer to engrave a person's name by hand on a beautiful genuine leather iphone cover for example.
This is how this product scores based on the list above:
There isn't really a price range here because anything can be customized.
The weight depends if you are selling an iphone case or a bicycle
This can be anything so it's not a niche market
They are fairly easy to operate.
You do need customization skills (like embroidery) or appropriate equipment like lasers or special printers.
Why not go for top selling items on eBay
We are constantly getting questions like "what sells the most on eBay" so we finally wrote about the top selling items on eBay, yet I wouldn't suggest trying to sell them as the competition is usually so fierce that you will end up either not selling anything or selling at a very low margin which will not allow you to grow your business effectively. These top selling items are usually dominated by the biggest players. While it's great to aim to become the biggest player in your space, it's definitely not the right way to kick start your business.
If you are looking for inspiration, take a look at this eBay page which shows some of the popular items sold on eBay:
In almost 10 years selling on eBay we tried everything, from selling $1 iphone covers to $20,000 8-meter long and 200kg camera cranes.
There is almost no limit to what you can sell if you are able to sell it effectively (have enough profit margin, ship in a timely manner, efficient returns process, provide awesome customer service).
Items to avoid selling on eBay
The first item my business partner Victor sold was a fake hair straightener, and he got his eBay account suspended a few weeks later.
This experience completely changed the way we were looking for items to sell, we quickly understood that in order to sell on eBay there are certain rules we have to follow, after all, it's not our own website where we can do whatever we want, we are guests on eBay's platform and have to act accordingly (and yes, this is a valuable eBay selling advice I wish someone told me from day zero).
Here are some general pointers as well as items one should avoid (especially newbies) selling on eBay:
Don't sell expensive items before gaining a nice amount of selling experience – meaning you have sold 100 items and have six months experience. Start with a relatively inexpensive item around the $20 mark, learn eBay's rules, gain some experience with shipping and learn to resolve customer issues.
Think of selling simple, new and accessible items such as toys, kitchenware or office supplies. These items have decent demand but are relatively inexpensive so that when you make a mistake and believe me all new and even veteran sellers make mistakes, your losses will be mitigated.
Don't list prohibited, unauthenticated or prohibited items on eBay – you will be suspended from selling!
Watch out for scammers and predators which include buyer fraud – I wrote about this in my previous post about eBay Seller News. These people generally target new sellers who are vulnerable. They spot you based on the date you opened your eBay store and based on the amount of feedback you have.
5 items new sellers should avoid like the plague
What not to sell on eBay is often just as important as what to sell on eBay:
#1: Designer Products
Designer products especially handbags, scarves, watches and really anything else which can be easily replicated or knocked off should be avoided! eBay has zero tolerance for brand infringement and your account will be shut down after the first instance! Take a look at the eBay policy.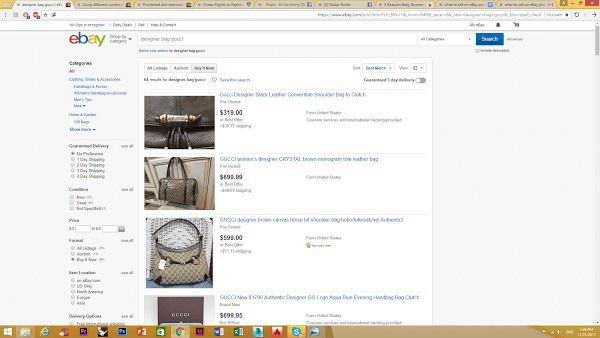 #2: Collectibles or autographs
First of all, many sellers especially newbies don't know the value of their collectible or autograph and end up selling it to a more seasoned buyer/seller who turns around and sells your product at a much higher price. Second of all, if you do decide to sell collectibles or autographed items make sure to get them authenticated otherwise a buyer can claim that it is fake and eBay will refund their money from your PayPal account! Check out eBay's recommended authentication services.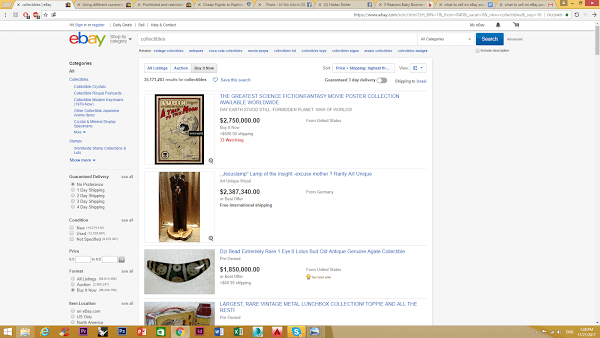 #3: Iphones, Galaxies or any other smartphone
This is a well known eBay scam. You sell someone a phone, they strip it of its internal valuable parts and return it to you. They get a full refund under eBay's policies and sell the parts and you get a stripped phone and are down the selling price. Do not sell phones on eBay!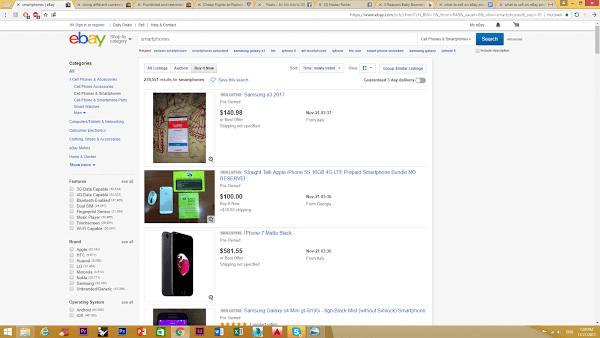 #4: Jewelry
Jewelry is really tricky – I'm talking gold, silver and diamonds. Unless you have an appraisal and a receipt – don't sell jewelry. And even if you do – don't sell jewelry! This is a high value product and there are tons of scams. One example is someone can swap the diamond with a zirconium and return it to you. You can really get screwed on this one.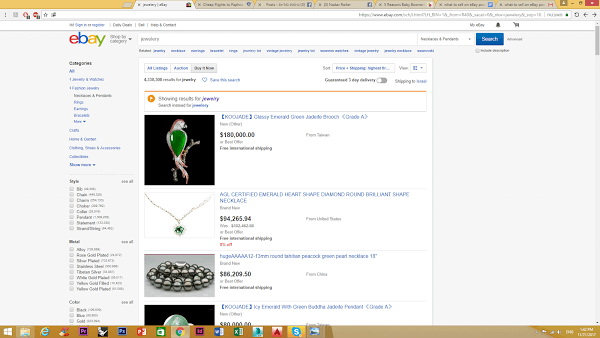 #5: Electronics
Much like iphones, scammers will strip these products of their valuable parts, return it to you and get a refund on your back. The most common items fraudsters look for include: cameras, computers, tablets and audio equipment. Stay far, far away!
Before you go off at me in the comments below, I know it's a huge category with tons of sub-categories and niches that can be very profitable so it's definitely worth digging into the sub categories to find niches.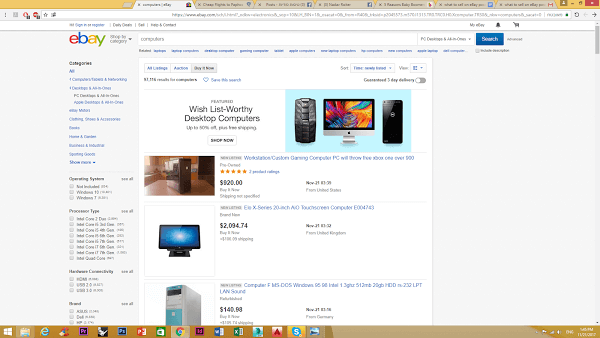 Prohibited eBay items
Here is a quick overview of items eBay prohibits and the general guidelines. Prohibitions are based on local or international law and it is important to understand that what is legal to sell in your country or state may be illegal elsewhere. Other reasons items may be prohibited is that they are dangerous, offensive and/or eBay has received complaints about a certain item appearing on their site. Here are the top five big no-gos on eBay according to eBay's prohibited and restricted items section. In practice though, I found all five of these categories on eBay and believe it or not these are some of the most profitable categories. I mean who would have thought there was such a large market for sex toys or cannabis paraphernalia, certainly no I.
Sex
Adult only products such as pornography and dildos are a big no no for obvious reasons including restricting access to minors and conservatives. This is true according to eBays rule but in practice is a multi million dollar industry as the internet provides anonymity and accessibility.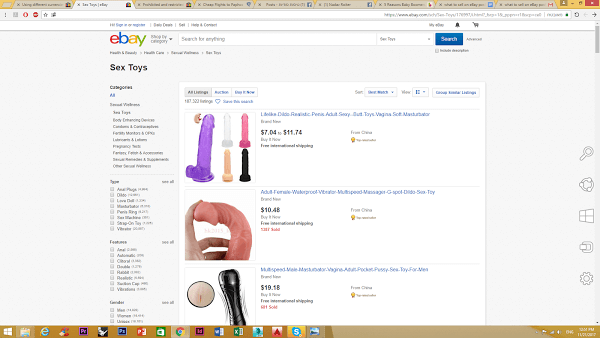 Wildlife
Plants, seeds weeds and animals (dead or alive) are not allowed. Besides the fact that plants and animals can spread diseases, many of these products are downright wrong! Imagine someone selling a taxidermy squirrel on ebay.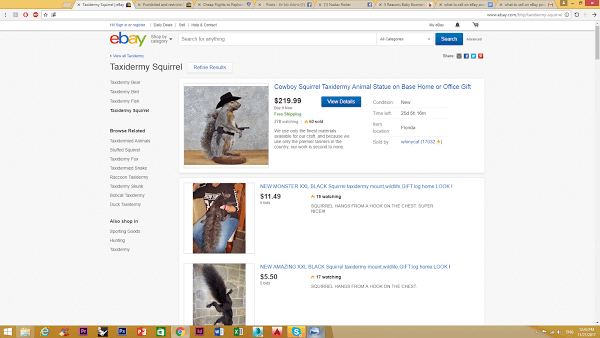 Drugs
Tobacco, drugs/ drug paraphernalia and alcohol are not allowed since many times these products are illegal and also since they can fall into the hands of underaged individuals. On the other hand Cannabis has been legalized in many states and is a multi billion dollar business. We have clients pulling in $300 k a month just from Cannabis paraphernalia.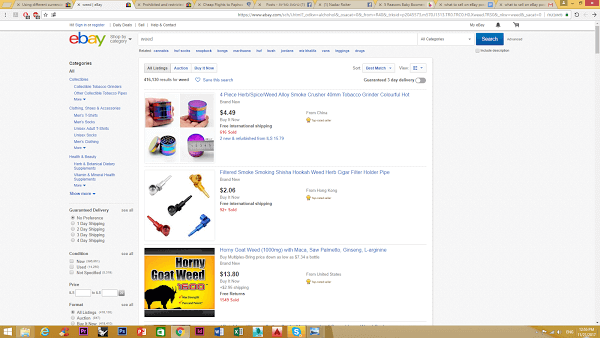 Currency
Coupons, currency, credit cards and contracts. First of all eBay is worried about a lawsuit when it comes to these items and second of all these items are hyper prone to fraud.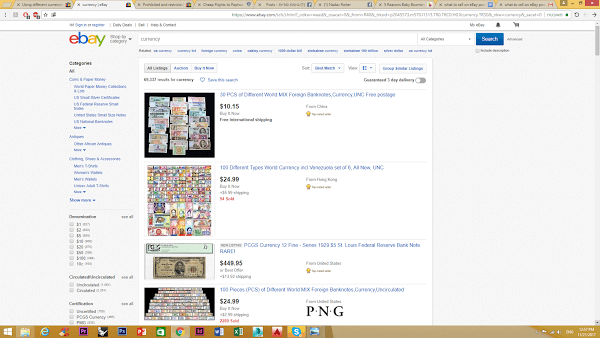 Fundraising
fundraising is not allowed on eBay (try Kickstarter instead) as I guess eBay does not want to deal with the potential for mass fraud and tax implications.
On the other hand, eBay promotes charity in various other ways and one of them is to allow sellers to donate some of their income to charity.
In fact, we had the pleasure of interviewing Cori O'steen who donates on a regular basis via the eBay for charity program.
There are several benefits to using ebay's for charity program:
In the US, sellers can get tax deductions since donations go to registered 501(c)(3) nonprofit organizations.
eBay credits final value fees to the portion you donate. If you donate 10% – eBay will credit 10% of the final value fee.
(special thanks to Betsie Bolger for her contribution to this section).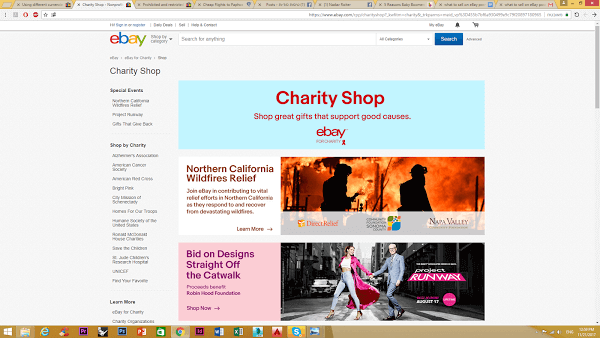 Have more tips for what to or not to sell on eBay? We'd be happy to hear from you in the comments area below.